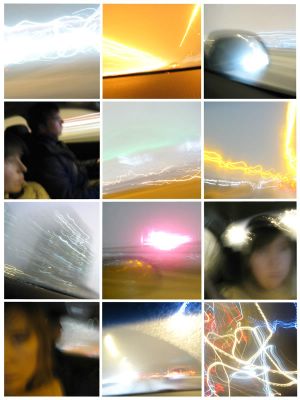 roads
This is a collage of photo's I took on the drive home from Montreal, which was full of night and snow. It was actually the Bot's idea, since he is a big fan of the long exposure, but I was hooked after my first few shots using a fifteen second exposure.
A week ago, I had the pleasure of visiting my friend
Alek's
painting studio, which also meant I had the pleasure of seeing her beautiful paintings right up close, while sipping on a glass of green tea, it was all very very exceptional. To me, Alek's paintings have always conjured up images of moving roads that twist around my memory, the scenes that wash over us from car windows, wet worlds running away from my forehead pressed up against the glass. I think somewhere buried in my long exposure photos, there is an homage to Alek's paintings.
Lately, I have been a little obsessed about exploring the themes of roads and driving, maybe it is due to my present day long commute to work, where I pass through vines of highways and run along tiled tunnels, buried under mucky streets… I love the ideas of routes, maps and navigation, I suppose textiles and sewing are strangely connected to these themes, since essentially your stitches follow specific (or nonspecific) directions that lead to you to a final destination…and man oh man, have I been doing a ton of sewing lately (a huge Monster Factory
deadline is approaching faster faster
). Regardless, my mind has been chalked full of gravel thoughts, and window framed waves of landscape.
Finally, I just wanted to point out this fantastic project:
The Bookmobile
– check out the gallery of handmade books, it will knock your socks off
and these beautiful journal pages:
Jaime's Journal Pages
– outstanding!
and finally the fabulous
camilla