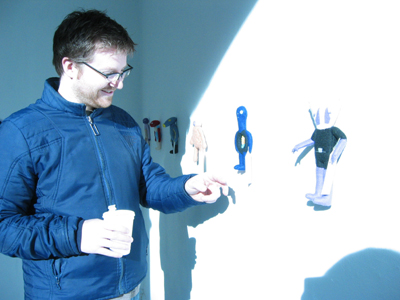 the booh and i checked out some art on queen st this sunday. we loved the show by drew langois a member of the royal art lodge
I followed the evening along college st. filled with pasta and laughter. Poppa
otis
came by tonight with my two brothers to take us out for dinner, the only thing missing was my sweet sister Kaure. I miss her so much, I can not wait till she moves back to the city. My sister and brother were two gigantic heros during the One of a Kind show madness. Kaz took care of the booth on a couple occasions and kaurel stayed up all night sewing with us last Friday. Now that is love.
Dad always makes me laugh, and his imagination is golden. Aiden (my littlest brother) is also a diamond boy…Talking to me about music, canoe club and asking me if my sweet booh eats holographic meatloaf…oh my sweet fam. They are the goods.
We ate dinner at the Standard tonight…an Italian restaurant. I had a delicious vodka pasta, mmm…and a million piece of bread. We were all tempted to skip out and go straight to Betando's, a family favorite for deep fried panzorotti's and fresca's, but we decided a good sit down meal would be nice. My belly is still expanding with rigatoni and giggles.
After dinner, I snuck off for martini's with my buddy inggy b. We went to Cobalts, and sampled the delicious sweet mixes from their menu…and had some more giggles…tossed around new years ideas, and plans of returning to the county. Oh Grey, I will see you soon, snow covered and sweating ice out your ears. I will have to go running in three feet of frozen white and battle for road room and watch my back for snow plows…yes I will see Grey county soon enough.
Holidays are so good though, and I have earned this one. I am going to enjoy the slow and muted pace. Take walks, talk with friends, family, see woods, art, solid lakes, ponds, and dip my ears into forests and holiday songs. Mmmm. I can not wait.